Artist Portrait




Birthplace .......................................................... San Pedro, CA
Birthdate ................................................... November 15, 1994 Medium .................Digital Media, Oil painting,Photgraphy
Happy Place........................................................ Her Bedroom
"It's about finding the different outlets to express yourself, I Just try to do
something creative"
As an expansively creative artist, and not to mention a Reflect Art Experience regular, Catrina Esperanza is an amazing painter, illustrator, photographer, and overall human being. Being a Latinx female from Southern California, her work offers a distinct and exuberant look into her surroundings, culture, and inner self. As an extremely dedicated creator we thought of no one better to start off our interview series than her, so we decided to sit down and chat about personal identity, space, and Tame Impala.
Hey Cat! So obviously though you're a super talented visual artist, I know music is something you use to help express yourself in your work. What are you listening to at the moment!
"Yeah music is really important to me. I've been listening to a lot of female singers like Solange, Girl Ultra, Snon Aalegra, Biig Piig, and Ari Lennox — they all have greatly inspired me and my work. Also I defiantly love Tame Impala's Currents, that's a classic and Thundercat too!"
What books are you reading at the moment too?
"Right now I've been reading the book Stop Telling Women to Smile by this author Tatyana Fazlalizadeh. It's this very feminist… or not so feminist, she doesn't like to use the word feminist because as a woman of color she prefers the word womanist - she thinks feminism was created by white females. It's basically about how sexual harassment by men has shaped the lives of women and how openly accepted it is by society… she uses her art as well creating portraits of women, trans women as well, to share their stories and their experiences. It's been a really, really good book.
Senses III, 2020, archival inkjet on
aluminum
Wow, that sounds like a really impactful read. Does this narrative and theme of womanism then have an influence on your work? What are some other themes of your work?
"A theme that I focus on from a woman's perspective that I enjoy exploring is my Mexican culture. My paintings La Llorona and my other painting La Catrina are Mexican folktales involving women so I've been honing in on that. I'm El Salvadorian too but I haven't got into that side of my culture yet. Being raised in the US, not fully in Mexican culture I'm taking the opportunity to explore that now trough painting, reading, and everything."
What would you say to someone who is just starting to get into making art and trying to express themselves like you have?
"I would say, just explore through music or reading or any form of art that grabs you, and captivate you. Just try and depict that into art. Take something that you love and try to put that on a canvas or digital format or anything! Just try and explore something that interests you and put it on somethin'!"
That's great advice! And obviously as you express yourself and make wonderful pieces, space becomes super important. In your opinion, what does your ideal studio look like?
"Ooff my ideal studio is not in my kitchen like it is now. Defiantly don't recommend painting crammed next to a table. Space really matters, because you want to feel free enough to create and having limited space is really hard but you can never let that stop you. I mean I'll drive far, all the way to Anaheim just to Black Umbrella Tattoo, just to be able to paint with my friend Cynthia and in a more open space."
So as we talk about space, as an artist you need space to work and space to display. After being at the last Reflect show and showing your work in more and more spaces, what are some important factors when being a part of shows?
"I mean lighting and wall space are super important. Even when your stuff is on an easel, having enough space so people don't bump into you stuff is something to consider. I mean no matter what I appreciate every show that I'm in, no matter what. I'm always willing to show my work as long as the energy is good. I mean I guess it's the same for my ideal studio. I'd love to just have four walls and a ton of natural light to be able to do whatever I want, even get into sculpting."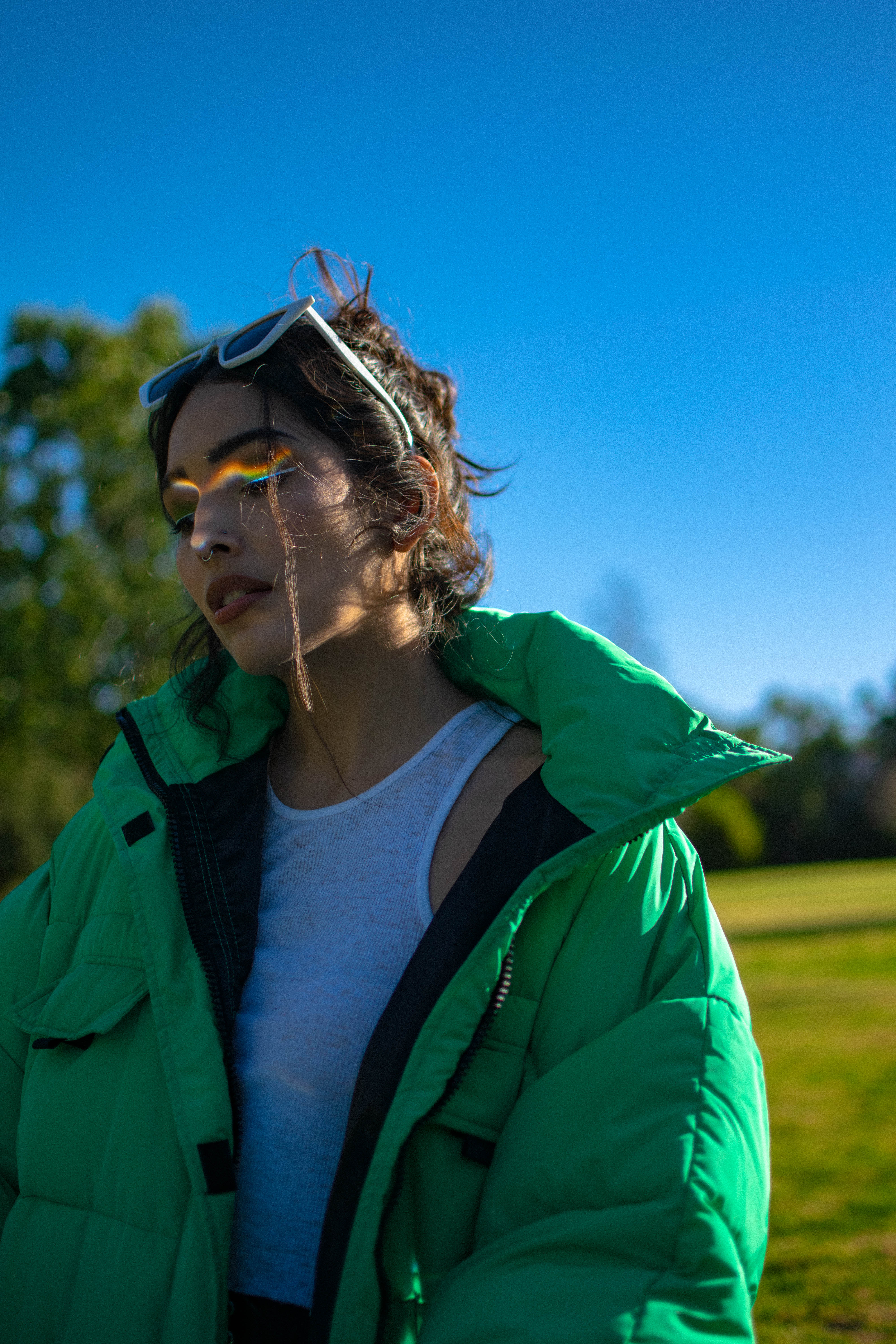 Cat work her peice,
La Catrina
in the sanctuary of her bedroom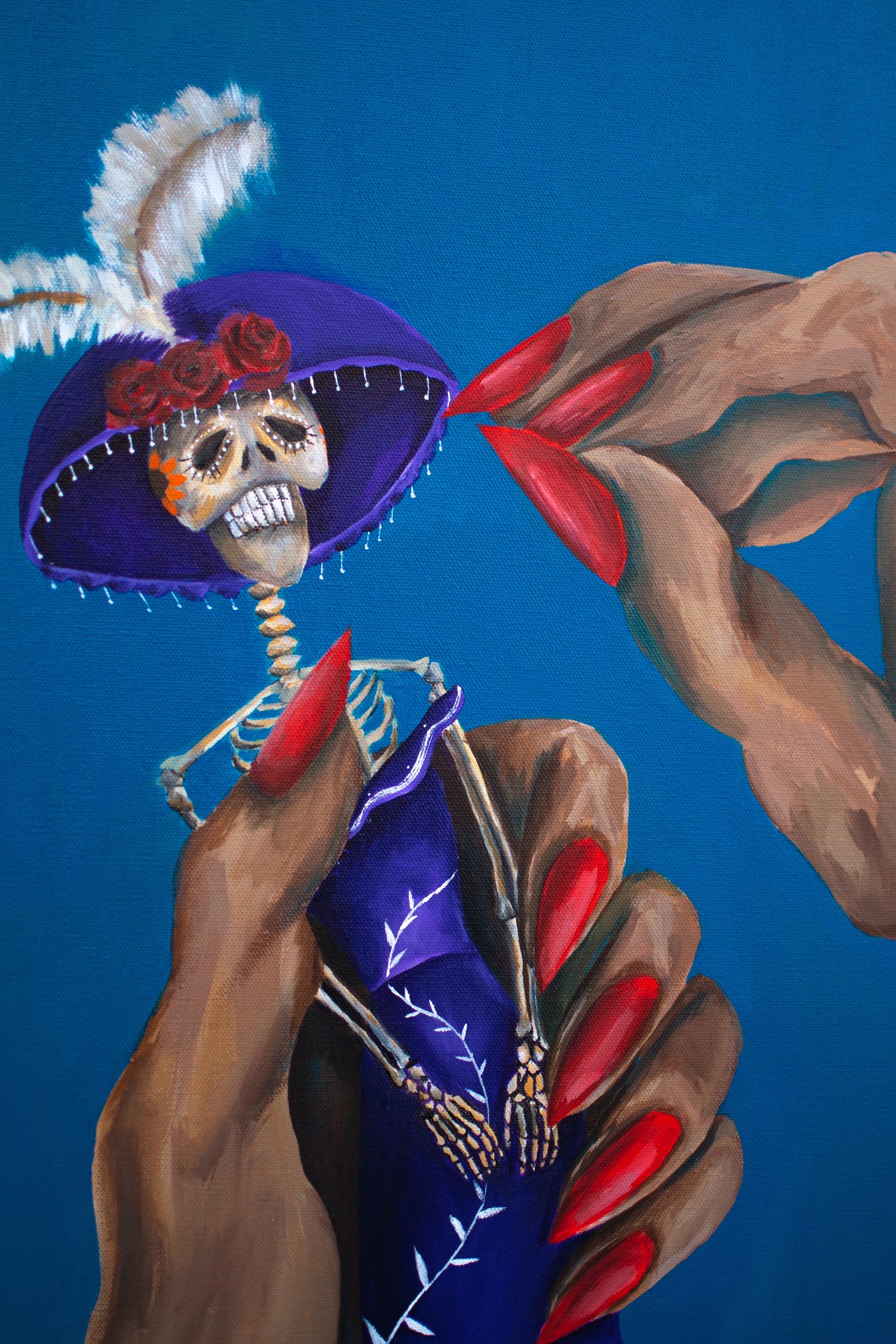 La Catrina,
2020, Acrylic On Canvas
In thinking about the future, and different mediums that you want to get into, what are some foreseeable goals that you have?
"Well a goal of mine is actually to get a studio funny you mention that. And also I've got to get out of working retail. I've worked in retail for too long, and I feel like it's not helping my career what so ever. I'm always thinking 'I could be drawing or painting right now instead of folding this damn shirt'. It's not that I hate it, I'm just trying to move forward and grow, and do something with more meaning. And of course just make . Last year I made so much, and this year I can't wait to see what I do, and see progression and not drift away from focus.
Talking about getting distracted, do you ever have a creative block? And when you're stagnant how do you get back to working?
"Yeah defiantly, some month you just don't have the motivation to do anything. But usually when I don't want to paint or draw or do any of that, I do something else that I love to do — like photography right now. It's about finding the different outlets to express yourself, I just try to do something creative. But I never stop creating I just do it in a different way I guess.
Interview by: Harrison Rich